FAQs
WHERE ARE YOU LOCATED?
We currently do not have a physical store. We hope to have one in the future, but right now we are mainly online. We hold pop-up stores and events throughout the year where you can shop in-person. Follow @newunion.market for updates.
DO YOU MAKE THE ITEMS YOURSELF?
Yes. And No. Unfortunately right now we do not have the capacity to print on garments. That's something we are pushing towards in the future. We do however design everything ourselves, hand select garments and printing processes, and order in bulk. We hand pack and ship everything to you. And from time to time we hand dye and acid wash garments too.
IS THIS A ONE TIME THING?
No way. We've got drops planned over 6 months out. We love creating new shirts, and we believe you can never have too much Battle Creek merch. We release items seasonally and at sporadic times throughout the year. All products are one-time, limited quantity releases. Check our website or Instagram for news.
WHERE DOES THE NAME COME FROM?
When coming up with a name we knew we wanted something that paid tribute to Battle Creek. But we also knew we wanted something more unique than using "Battle Creek" in the name. That's when we found an old historic Battle Creek photo with a business named "New Union Cafe". We saw that and immediately loved that name. Unfortunately we couldn't find much information on this business! If you know anything please let us know.
WHAT IS YOUR RETURN POLICY?
We accept returns on unwashed items within 14 days of receiving your order. If your order arrives damaged, or you wish to make a return, simply fill out a contact form. 
If you wish to receive a different size in return, a new order must be made, to ensure we have your new item in stock.
DO YOU OFFER PICKUP/DELIVERY
Unfortunately, at this time, we do not.
Streetwear for our hometown
We've lived in Battle Creek our whole lives, and we got tired of the negativity. Instead of complaining, we wanted to do something to make our city better.
We had our first pop up in July of 2019, and have been innovating, releasing fan favorite items, and pushing the boundaries of what is expected in Battle Creek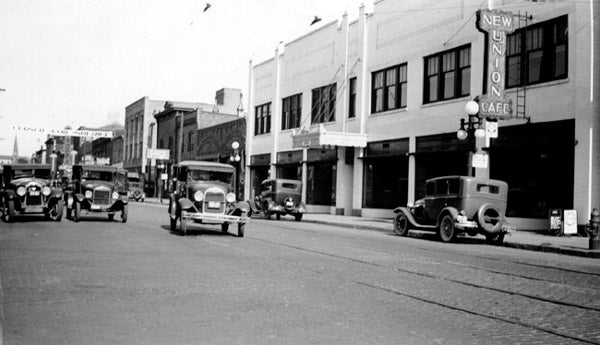 Why "New Union"
Rooted in Battle Creek's history, we found a historic business and adapted it's name. It represents the rich history of our city, and the movement to make it better presently and into the future.
Behind New Union
Caleb Minear

Born and raised in Battle Creek, Caleb Minear has had a love for art in all forms from a young age; Starting with photography, evolving into filmmaking, graphic design, screen printing, film photography and more.

Caleb enjoys tackling new hobbies and skillsets, but especially enjoys shooting film on his Hasselblad and Nikon F, or any of his other unique film cameras. He also enjoys rollercoasters in any form; riding them, designing them, or talking about their unique interworkings.

Caleb designs, prints, models, and photographs for New Union Market

Jillian Minear

Jillian Minear is a valuable part of New Union Market, assisting with modeling and photography, pop up management, and more. She loves cozy days at home with a movie, snacks, and her cat William.